What is Giant Multiplayer Robot?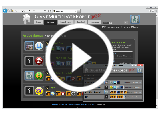 Video Tutorial
Giant Multiplayer Robot is a service that makes Civilization V turn-based multiplayer games easy by taking care of all the little details.
Extending and enhancing the multiplayer experience
Normal Civilization V multiplayer games are synchronous, meaning that everyone has to be playing at the same time. While this style of play is fun and engaging, we wanted an easier, more casual way to enjoy Civilization V with our friends.
Giant Multiplayer Robot utilizes Civilization V's hotseat mode to create a smooth turn-based multiplayer experience by managing your save file and passing it from player to player. You'll get notifications from the website, email, and/or our desktop app when it's your turn. Giant Multiplayer Robot also provides services not normally available in Civilization V hotseat multiplayer, such as leaving an in-progress game, a customizable turn timer, and mod support.
Forget the details, focus on the game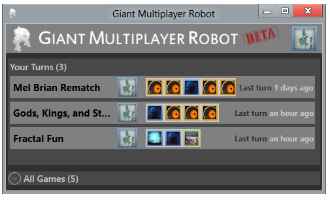 The Giant Multiplayer Robot desktop app manages uploading and downloading your save files, so you don't have to worry about it. It'll automatically grab the save file when it's your turn and put it in the Civilization V save folder. When you've finished your turn, it'll take care of uploading it too.
If you're a Mac user or prefer not to download our desktop app, you can also download and submit your turns via the website. Just go to the a game's details (linked through the notification that it's your turn) and you can download and upload the save file there.
Free and easy
For free, you can play up to two games at a time. Just log in with your Steam account to get started! (This is how we use your Steam data, if you're curious) If you'd like to be in more games, or if you'd like to help out with our costs, please support us.